Episode 2: Whoever smelt it dealt it…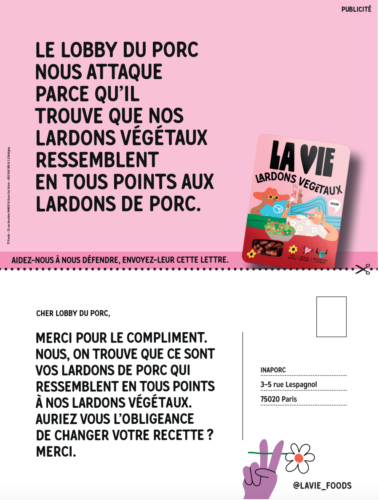 The pork lobby was coming after us for "unfair competition" as our plant-based lardons perfectly reproduced "authentic" pork lardons. Yep, you read that right.
The best compliment we could ask for, asking us for confirmation of receipt, too! ❤️
Their love letter specified that our plant-based lardons "reproduce the shape, colour, texture, (…) and taste of pork lardons". Managing that with nothing but plants, in France, with no animals involved and no heft additions to the CO2 footprint that goes with animal forming? Guilty as charged! We wouldn't have it any other way. 😁
This attack did catch us out though, and it did bother us, so we got together for a good old brainstorming session to come up with a plan. So, we got to thinking… They're suing us because we look too much like them, but then that must mean… Oh, wait a minute! 👀
You bet we went there. 😏
So, if you want to join the good, pig-free fight, you can ask the pork lobby to change their lardons (which look a little bit too much like our plant-based lardons) by sending them this little letter that we slipped into 260,000 copies of @leparisien and which can be downloaded from our website HERE.
PS: The porking fees are all yours. We've already given our all, hope you don't mind…🐷
Love, La Vie™ 🌈❤️
#veggie #plantbased #vegan #bacon #lardons